Slovak Classics
Within the national project Digital Audiovision (2011 – 2020) Slovak Film Institute built its own digital restoration centre and since then has been digitally restoring Slovak audiovisual heritage, taking care of the whole digital restoration workflow in-house: from scanning materials to production of masters and their derivatives. In the past couple of years digitally restored Slovak classic films have been presented around the world at prestigious film festivals, cinematheques and art galleries – Lumière Lyon, IFF Rotterdam, Sitges – IFFF of Catalonia, Hong Kong IFF Cine Fan, Tallinn Black Nights FF, Karlovy Vary IFF, National Gallery of Art Washington DC, Austrian Film Museum Vienna, Budapest Classics Film Marathon, DOK Leipzig to name a few.
Slovak Film Institute executes the rights of authors to audiovisual works produced by state organisations before 1991.
Digitally restored Slovak classic films have also been continuously released on home video formats (BD, DVD) by labels such as Second Run (United Kingdom), Malavida (France), Clavis Films (France) and Bildstörung (Germany) and VoD platforms such as DAFilms, LaCinetek – La Cinémathèque des réalisateurs.
Slovak Film Institute has been releasing digitally restored audiovisual heritage also on its own label and operates its own e-shop klapka.sk dedicated to Slovak cinema.

A selection of thirty-five classic features, Best of Slovak Film 1921 – 1991 (pdf) presents the highlights of the Slovak audiovisual milieu.
---
Discovering Hidden Treasures or L'Âge d'or of Slovak Cinema
by Rastislav Steranka
On 29 November 2022, LaCinetek, an auteur-driven French VOD portal dedicated to the greatest films of the 20th century unveiled a special curated selection of classic Slovak films provided by the Slovak Film Institute. With the aptly titled Hidden Treasures section, the VOD platform aims to rediscover classic films, to make invisible films visible. The Slovak Film Institute joined an exclusive Hidden Treasures club, and thus joined institutions such as La Cinémathèque française, La Cinémathèque de Toulouse, Deutsche Kinemathek, L'INA, Lobster Films, Gaumont, L'Agence du court métrage and Cinémathèque royale de Belgique. All the institutions themselves had carefully searched their vaults and hand-picked gems that LaCinetek proudly made available for viewers in the French and German speaking territories.
The Slovak Film Institute's Hidden Treasures is a tailor-made curated programme of films titled The Golden Era of Slovak Cinema (a selection from the golden decade of Slovak cinema, from the liberal 1960s until the beginning of the normalization in the 1970s). It offers six films digitally restored by the Slovak Film Institute. Each of them is accompanied by a newly filmed short video introduction (narrated by Mária Ferenčuhová, shot and edited by Róbert Šulák). The video introductions and the two newly commissioned short documentaries produced by the Slovak Film Institute (on the films The Sun in a Net and Dragon's Return, both directed by Maroš Brázda) shed light on the context and the times the films were made in.
The approach to the Slovak selection itself was based on the idea of exploring terra incognita, i.e. bringing the best, the most interesting pieces to audiences with no prior knowledge of classic Slovak cinema: in the beginning was... The Sun in a Net by Štefan Uher (1962), a film widely considered to be the start of the Czechoslovak New Wave, with Štefan Uher being its John the Baptist. The Sun in a Net is authentic in its depiction of ordinary lives, combining then-unacceptable social and political themes with sexual openness and a freewheeling approach. The Barnabáš Kos Case by Peter Solan (1964), a story of the rise and fall of a conscientious musician, a mundane triangle player in a symphony orchestra, offers a study of the invincibility of absurdity inspired by Franz Kafka and the Theatre of the Absurd. Eduard Grečner's Dragon's Return (1967) brings a radical fusion of folklore and experimental modernism set in an uncompromisingly harsh world where "hell is other people". Birdies, Orphans and Fools by Juraj Jakubisko (1969) presents a playful, surreal and increasingly nightmarish piece of cinema evoking François Truffaut, Jean-Luc Godard and Luis Buñuel. Elo Havetta's Wild Lilies (1972), a black & colour war film set in the aftermath of World War I, is a visual feast formally based on the principle of polyphonic musical compositions. The selection from the golden decade ends with Dušan Hanák's Pictures of the Old World (1972), a deeply humane, unique portrait of people left behind by the modern world. A true masterpiece exploring the fundamental levels of human experience.
The selection offered by LaCinetek's Hidden Treasures undoubtedly represents the best of Slovak classic cinema, even though there is still more to discover. Those who visit it will not be disappointed. Rather, they might be pleasantly surprised by the mere existence of such national cinema and its exceptional films, proving that even a small cinema like the Slovak one, in its brief but golden period, was once among Europe's best. What happened to it after August 1968, when it was forcefully replaced by socialist realism prescribed by the normalisation for years and years to come (until 1989), is, sadly, another story...
---
A Case for the Defence Attorney (Prípad pre obhajcu)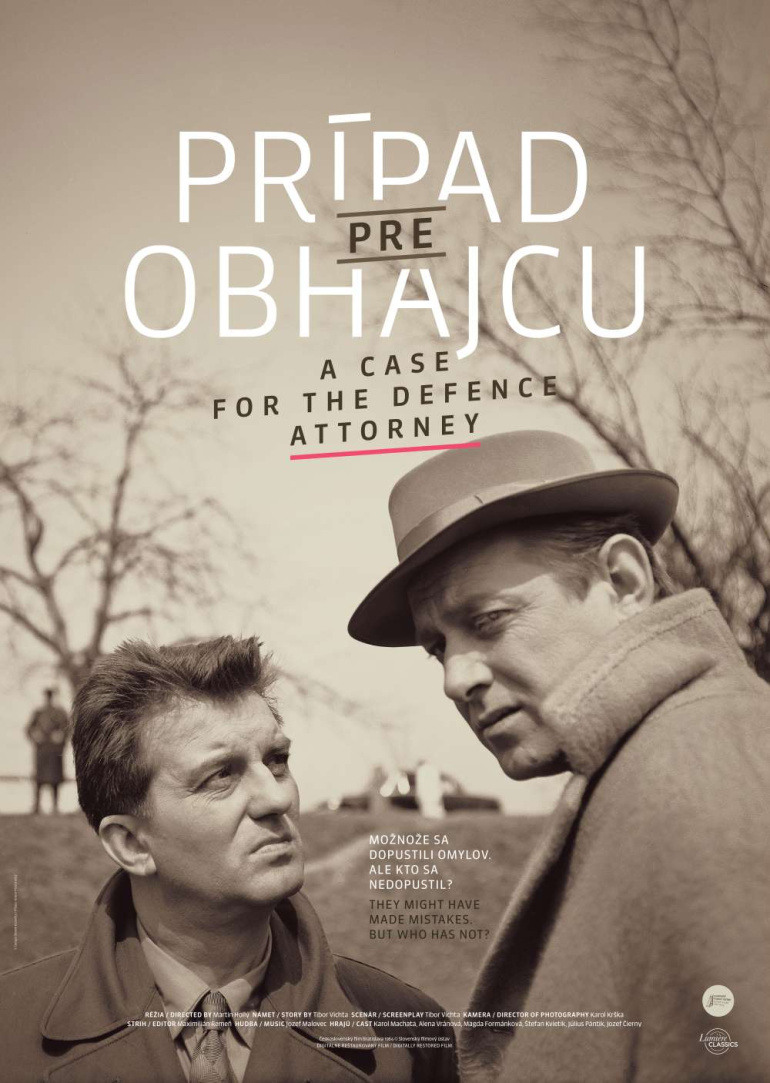 Czechoslovakia [Slovakia], 1964, 90 min., fiction
Director:
Martin Hollý
"They might have made mistakes. But who has not?"
Smalltown, year 1958. Fero Macejka, a 15-year-old boy from the margins of society is accused of rape and murder of a young girl. Three university friends – defence attorney, prosecutor and judge. For defence attorney Kolár, it is his first big case. Prosecutor Felcán is given the opportunity to clear his name and restore faith in a justice system. Judge Formánková stands above them. It is she, who will pronounce the final verdict...
Rights Holder: Slovak Film Institute
World Premiere (digitally restored version): Lumière Lyon 2022

---
Collection of Short Animated Films by Jaroslava Havettová
Czechoslovakia [Slovakia], 1969 – 1988, 59 min., animation
Director:
Jaroslava Havettová
Director, artist, and animator Jaroslava Havettová is known by many as the first lady of Slovak animated film. We can trace the beginnings of her career to the 1960s, within the formation of the first group of young animators in Bratislava. Her films are characterised by their inimitable poetic style. They deal with moral issues, destiny, sacrifice, and the role of an individual in society. Moreover, they analyse the individual characteristics of her main characters and interconnect them with the general issues faced by contemporary society.
Rights Holder: Slovak Film Institute
International Premiere (digitally restored versions): International Film Festival Rotterdam 2023

---
Seven Days Every Week (Každý týždeň sedem dní)
Czechoslovakia [Slovakia], 1964, 86 min., fiction
Director:
Eduard Grečner
"Don't act, live!"

Turo and Andrej, university students, experience anxiety that, in some way, emanates from the dropping of the atomic bomb on Hiroshima. The bonvivant Turo is tormented by the idea of a very concrete menace - an atomic threat that could turn into a reality at any time and destroy all life. Andrej, a sculptor, struggles to complete the memorial to the Hiroshima tragedy despite he devotes it all his time. The alienation that stems from the angst, penetrates their private lives and undermines any of their efforts for functioning relationships.

Rights Holder: Slovak Film Institute
International Premiere (digitally restored version): International Film Festival Rotterdam 2022
---
Jožinko's Adventures (Jožinkove dobrodružstvá)
Czechoslovakia [Slovakia], 1981 – 1990, 5 ep. à 6 – 10 min., animation
Director:
Vladimír Pikalík
Jožinko's Traffic in Things (1981)
Jožinko wants to play but he can't decide. Being picky and a series of unsuccessful decisions cause both minor and major catastrophies. But then he finally finds out that toys are not the only means of having fun.
Jožinko's Fishing (1981)
Fishing requires time and patience. However, Jožinko comes with his own, alternative methods. Employing those he puts even experienced fishermen to shame. However, envy always goes hand-in-hand with success.
How Jožinko Stopped Being Scared (1982)
Somewhere in the middle of the forest there is an abandoned cottage. There, Jožinko and his friends are looking for a stray ball. Inside the cottage, in its dark and dusty corners they find something more.
Jožinko in the ZOO (1986)
Jožinko and his friends go to the ZOO to find out what it's like to be in someone else's skin. Their innocent game soon gets out of control turning into a game of survival.
Jožinko's Space Adventure (1990)
Jožinko's curiosity knows no bounds. This time, his desire to explore everything around takes him to outer space for a close encounter of the third kind.
Rights Holder: Slovak Film Institute
Distribution in France: Les Films du Whippet
---
Night Riders (Noční jazdci)
Czechoslovakia [Slovakia], 1981, 91 min., fiction
Director:
Martin Hollý
"If they catch him, his myth will fall. If he escapes, he becomes a legend."
They fought for the same ideals of freedom in the Great War. After the war, Edo Halva joined the service of newly established republic to protect its laws and maintain the order. Marek Orban returned to his village to secure better life for his people. He became a horse smuggler. During the day, the two men respect each other. At night they shoot to kill without blinking an eye. One wears a uniform, the other is an outlaw. Each of them fights in the name of his own truth.
Rights Holder: Slovak Film Institute
World Premiere (digitally restored version): Lumière Lyon 2020
---
The Bloody Lady (Krvavá pani)
Czechoslovakia [Slovakia], 1980, 74 min., animation
Director:
Viktor Kubal
"He cured her. She gave him her heart."
Young and beautiful countess loves life. Both noble suitors and forest animals compete in showing their true affection to her. One day as a storm breaks out in the forest she gets lost. Exhausted to the point of death she enters a chalet of a young handsome man. He cures her. She gives him her heart. The heartless countess begins to detest the whole world. Her hate and obsession with eternal youth costs many young virgins' lives. A silent feature length animated film based on a legend of Erszebét Báthory, the legendary Bloody Countess who allegedly maintained her youth by bathing in young virgin's blood.
Rights holder: Slovak Film Institute
World premiere (digitally restored version): Lumière Lyon 2017
---
The Barnabáš Kos Case (Prípad Barnabáš Kos)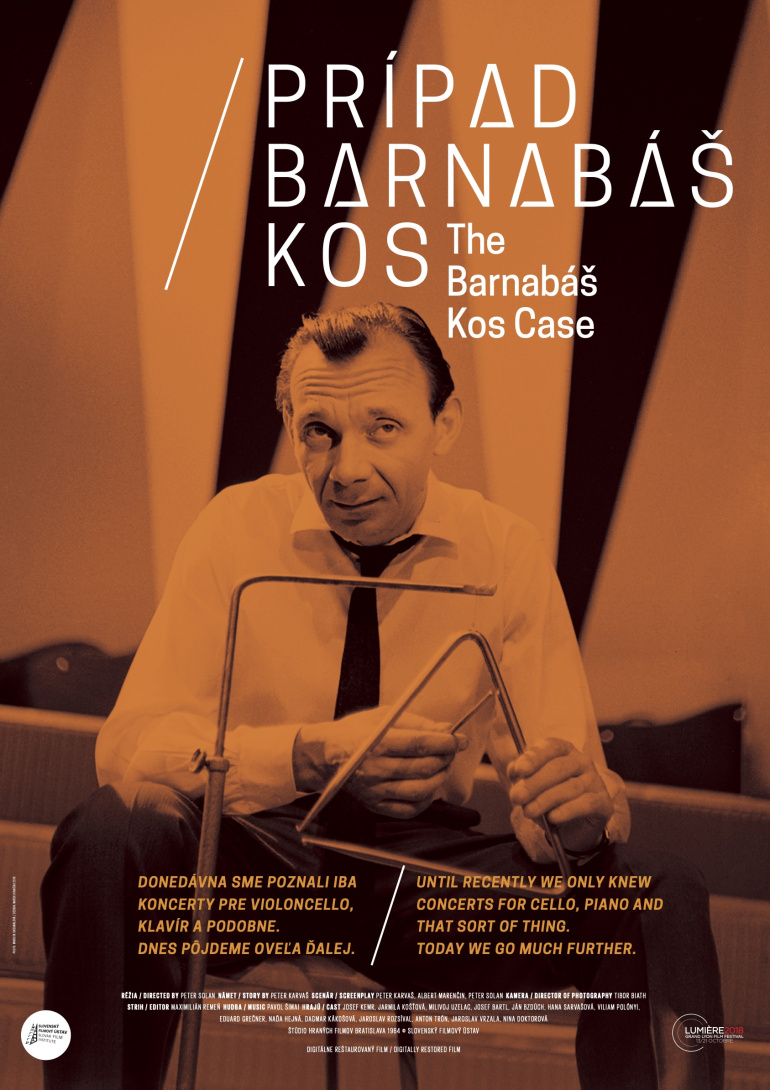 Czechoslovakia [Slovakia], 1964, 92 min., fiction
Director:
Peter Solan
"Until recently we only knew concerts for cello, piano and that sort of thing. Today we go much further."
Barnabáš Kos is a triangle player in a symphonic orchestra. One day, out of the blue, he gets appointed as its director. The modest musician first resists but soon comes to realize what kinds of behaviour determine the essential rules governing people's careers. A satirical comedy criticising hypocrisy illustrating tragicomic consequences of rise and fall of a conscientious musician. A story about a person who "consents," and then gradually succumbs to a feeling of his own importance and geniality. The film is inspired by poetics of Kafka's absurd theatre dealing with conflicts of an individual versus society.
Rights holder: Slovak Film Institute
World premiere (digitally restored version): Lumière Lyon 2018
---
Wild Lilies (Ľalie poľné)
Czechoslovakia [Slovakia], 1972, 80 min., fiction
Director:
Elo Havetta
"Behold the birds of the heaven, that they sow not, neither do they reap and yet, they are not hungry."
A story of the search for home, happiness and the need to find one's place in the world set in a picturesque Slovak village after the end of WWI. Two war veterans are returning home and trying to redefine the meaning of life and regain a sense of security and love. The film itself is an expression of liberated and spontaneous rhythm inspired by folk poetry, surrealism and naive artists. Protagonists of the film are compared to the birds of the air, that do not sow or reap and still survive; to the lilies of the field that do not care about their clothing and still grow in beauty. And they are just as fragile.
Rights holder: Slovak Film Institute
World premiere (digitally restored version): Lumière Lyon 2019