What is Eureca?
'Eco-calculator' for assessing the environmental impact of an AV production
3 partners of the Green Screen Interreg project - Promálaga, the Slovak Audiovisual Fund and the Flanders Audiovisual Fund - team up within the European Environmental Calculator (Eureca).
Based on the learnings of the Green Screen partnership, they will develop a new online instrument that will measure the carbon footprint of AV productions including resources to raise producers' awareness of the impact of their activities on the environment and assist them with planning including top-end scientific conversion factors for CO2 which will facilitate sustainable filming across Europe and provide a monitoring and reporting tool which will enable the film funds to consolidate results at regional level.



The purpose is to develop a European standard instrument, for all kinds of AV productions, that not only supports productions, but also allows regional and national audiovisual funds to implement green strategies. The development of this tool is based on the learnings from the Green Screen partnership. Scientists of the Catholic University of Leuven will aid with the calculation protocols and environmental parameters; the tool will be tested by regional stakeholders before it is made available in 2021.


Eureca (European Environmental Calculator) is an instrument that helps the audiovisual industry to better understand and evaluate the environmental impact of their filming as well as to make their production processes more sustainable. Eureca is a pilot project emerging from the European project Green Screen, financed by the European Regional Development Fund.


Eureca is focused not only on measuring but also on raising awareness and learning from experience. The purpose of Eureca is to develop a uniform European instrument so that it can be used by any type of audiovisual production in any country in Europe. It has been created in close partnership with producers, scientists and sustainability experts. It has been designed with the involvement of the audiovisual industry, which has been involved in its creation, improvement and implementation.


For that reason, Eureca is a tailor-made tool for all types of audiovisual productions. It is the instrument of preference for producers, line producers, eco-managers and heads of departments. In addition to being useful for the production companies, the funding institutions at European, national and regional level can use Eureca as a valuable tool for certification and reporting as well as a basis for implementing and fostering sustainability promotion strategies.
Eureca will
Help companies - It not only focuses on evaluating/reporting on emissions, but also on helping audiovisual companies to make the decisions during their planning to make their filming more sustainable.

Convert factors - It is uniform and consistent at European level, using reliable conversion factors based on a database developed by sustainability experts. Where needed, regional impacts will be taken into account.

Consolidate data - Facilitates the consolidation of data from different productions at regional, national and European level.

Be friendly - It is intuitive and easy to use. It has an affordable cost of use.

About us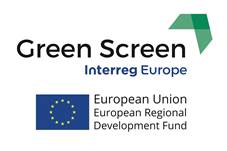 For the last 4 years the entities Promálaga, Flanders Audiovisual Fund (VAF) and Slovak Audiovisual Fund have been working in cooperation with other European partners in the European Green Screen project, focused on sustainability in the audiovisual sector.

Promálaga
is a public development agency created by the Málaga City Council that works in business promotion, entrepreneurship and innovation in the city of Malaga. Promálaga is committed to sustainability and has become a national pioneer entity in this field, positioning Malaga as an ideal city for sustainable film productions.
Promálaga, the Environmental Department of the Malaga City Council and the Malaga Film Office have worked jointly to create the Seal of Sustainable Production, which places the city of Malaga at the leading position in sustainable filming, not only at a national but also at an international level.

Flanders Audiovisual Fund (VAF)
is one of the European frontrunners in the field of sustainable production: sustainable actions are a formal requirement within its financial support for creation. Clever choices in the field of transport, energy, catering, waste and material and pre and postproduction also result in financial benefits.
Its sustainability approach has been widened widened over the last few years. Initially its focus was on the environmental impact of film and media productions by individual coaching of film makers. VAF recently started using the Sustainable Development Goals (SDG's) of the United Nations as a moral compass. Its aim is to translate these SDG's into specific and inspiring actions for the broad media sector, guiding and inspiring throughout the entire media chain: from school, script, production to screening in cinemas and festivals. Not all sustainable choices have a measurable impact (in CO2), but thanks to the SDG's they become tangible.
Slovak Audiovisual Fund/SFC
is the main public funding institution for the Slovak audiovisual culture and industry - and which works directly with audiovisual companies, being very proactive in its stakeholder engagement at national level. It has forged a close relationship with the Slovak Institute of Circular Economy (INCIEN), the Slovak Ministry of the Environment and the Institute for Environmental Policy.
Prior to the establishment of the Slovak Film Commission (SFC) and its involvement in the Green Screen project, industry awareness of environmental issues and good practices were very low and there is very little data on the carbon footprint of AVP. The first action within the SFC's regional action plan is the creation of an accessible and user-friendly carbon calculator: a tool which can be adapted to the needs of the Slovak audiovisual sector and which will incorporate relevant support measures is a crucial step in the transition to sustainable filming.
The implementation of Eureca in Slovakia will be underpinned by a green filming memorandum, green filming guide and green database. Together, these tools and resources will lay the foundation for the piloting of a green filming financial incentive scheme which will be funded by the Slovak Audiovisual Fund itself.

Contributions of each partner to the development of Eureca:
Promálaga: Leadership of this pilot project, being responsible for ensuring the success of Eureca and coordinating all the activities to be accomplished through the cooperation of the three aforementioned entities.
VAF: experience on carbon calculators and its regional and international contacts (Pulse transition network for Culture, Youth and Media, Cineregio, EFAD, EFARN and many others).
Slovak Audiovisual Fund: Testing/evaluation, selecting AVP companies from Slovakia, implementing all local evaluation activities and communication and dissemination activities, ensuring the provision of updated information about the pilot action project.
Why people choose Eureca
The aim of Eureca is to have a rough reference assessment of your film, based on the financial budget, to detect the different important fields of impact. By reporting your actual impact, Eureca will generate an overview of the environmental savings. Eureca will also allow to consolidate broad results of different films at regional level and will be linked to the Green Film certification scheme.

Eureca is based on scientific information on Life Cycle Assessment (LCA) and helps all kinds of audiovisual productions, covering pre-production, production and post-production to predict the important fields of impact during the planning phase, but also allows to report once the production is up and running.

Eureca is not a magical solution: you will still need to make the decisions based on your own experience, depending on the availability of sustainable goods and services on your local market, building on the craftsmanship and creativity of your team and within your budget limitations. But it will at least offer you a better and reliable environmental assessment.